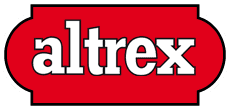 Altrex Taurus TDO - Optional with spring fixed castors
The double walkable Taurus stairs is extremely suitable for professional and intensive use.


The Taurus TDO is available in various versions. Choose from a minimum of three steps to a maximum of eight steps. In addition, you can choose to have a set of sprung fixed castors attached to the stairs. The set consists of two sprung fixed castors.


Click on the green button below the table to put your set together or continue reading about the Taurus TDO stairs below the images.
More Information

| | |
| --- | --- |
| Dimensions | Depending on number of steps |
| Delivery time | 1 week |
More Information
The Altrex Taurus TDO offers excellent properties for intensive use. The storage stairs is easy to handle due to its compact dimensions. Other features of the Taurus TDO are:
Double walkable, move stairs less
Ease of use through smart hinge system
Anti-slip steps
Pressure-resistant metal spread protection
Support bracket for extra safety
Large non-slip feet at the bottom
The user-friendly Taurus TDO stairs is double walkable. The ideal solution in situations where space is an issue. With this stairs you don't have to walk around the stairs and the stairs can stay in the same place.
The Taurus TDO offers several forms of safety. The TDO uses a unique hinge system on the top. It hinges so that pinching of fingers is prevented when folding. In addition, the Taurus TDO has large non-slip feet at the bottom. This ensures reliable stability. A third safe solution is the red support bracket. The support bracket is folded out on the first picture, so you can hold on securely. Fold the bracket within two seconds to transport the stairs as compact and safe as possible. Finally, the Taurus TDO is equipped with a metal pressure-resistant spread protection. The spread protection ensures that the stairs does not collapse unintentionally.
Working height
| | | |
| --- | --- | --- |
| Steps | Standing height (m) | Maximum working height (m) |
| 3 | 0,70 | 2,70 |
| 4 | 0,95 | 2,95 |
| 5 | 1,20 | 3,20 |
| 6 | 1,40 | 3,40 |
| 7 | 1,65 | 3,65 |
| 8 | 1,90 | 3,90 |
Altrex Red Step
The red step of the Altrex stairs has various functionalities. The step is clearly visible to ensure safety for the user at all times. You know that you are on the top step. In addition, the Altrex Red Step recognition. As a user you know that you are going to work with a qualitative stairs.
Anti-slip feet

Compact dimensions

Double walkable

Professional use
Technical Information

| | |
| --- | --- |
| Dimensions | Depending on number of steps |
| Delivery time | 1 week |